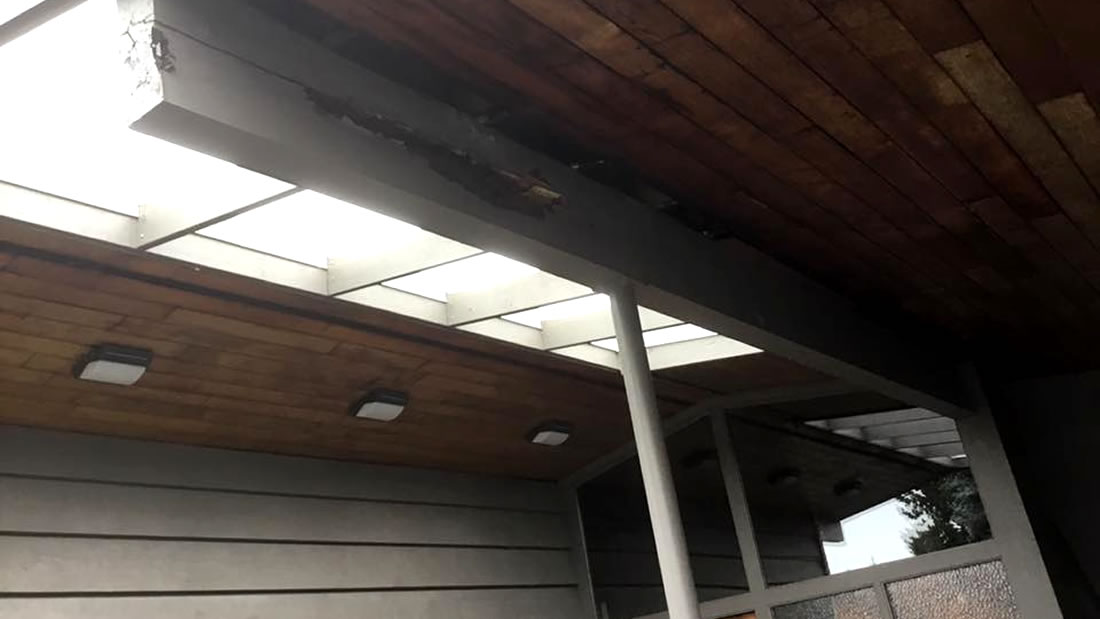 09 Jun

Rot Repair: How Snowridge Remodeling Gets Rid of Rot in Your Home

Let's talk about rot repair. Uggh. Not a pleasant subject, but one that's necessary to address if it turns up in your home. 

Rain is the main ingredient for our Pacific Northwest's lush green landscapes. But the rain becomes a pain when it infiltrates your home's wood framing or siding. Once water works its way in and sits there, it can lead to rot.
WET ROT vs DRY ROT
There are two types of rot, dry and wet. Both are caused by fungus, which spreads via spores. These spores are present in normal wood, but they don't usually act up and grow unless they come into continued contact with moisture.
Wet rot thrives when lumber has around 50% moisture, which can happen when you have an external leak or plumbing leaks.
Dry rot can grow in as little as 20% moisture. Dry rot is often found in hidden areas like behind a wall or under floorboards. (Contrary to its name, dry rot won't grow on dry wood.)
Two fungi with different names, but they lead to the same problems. They thrive and spread on moisture and destroy lumber's structural integrity.
HOW DO YOU KNOW IF YOUR HOME HAS ROT?
Typical signs are:
a damp or musty smell
water stains on your walls
spongy timber
black or brown fungal growth.
A properly built house can resist getting hammered by Pacific Northwest rain and wind. However, many homes have been built by workers who haven't been trained to correctly install flashing (the edging around windows and doors) and envelope wraps (the barrier between the framing and siding, like Tyvek, for example).
That's where Snowridge comes in.
HOW DOES SNOWRIDGE GET RID OF YOUR HOME'S ROT?
DEMO & DISCOVERY
First, we locate the source of the moisture, usually a leak. This usually involves removing some of your siding and framing to find where the moisture has entered your house. If this process takes more than a day, we make sure the demo area is left safe and secure.
We call this the Demo and Discovery phase. We charge a one-time fee for this.
Next, when we've found the exact source of the leak, we document it with photos and reports. We then give you a fixed-cost proposal to repair the rot-damaged areas. We clearly define the extent of the damage, and the scope of work we'll be doing.
THE REPAIR PHASE
When you accept our fixed-cost repair proposal, we will start by setting up plastic sheathing barriers to protect the rest of your home during the repair process. We cut away all rot-damaged wood and replace it with high-quality lumber. We treat the affected areas, the cut edges and ends of lumber with a System Three product, which is an epoxy wood sealer, primer and consolidant to seal wood permanently to prevent future moisture penetration. Finally, if there's been damage to the house envelope, we replace that as well.
If you suspect your home has been invaded by rot, get in touch with us and we'll schedule a free assessment.   
Contact Us
"*" indicates required fields