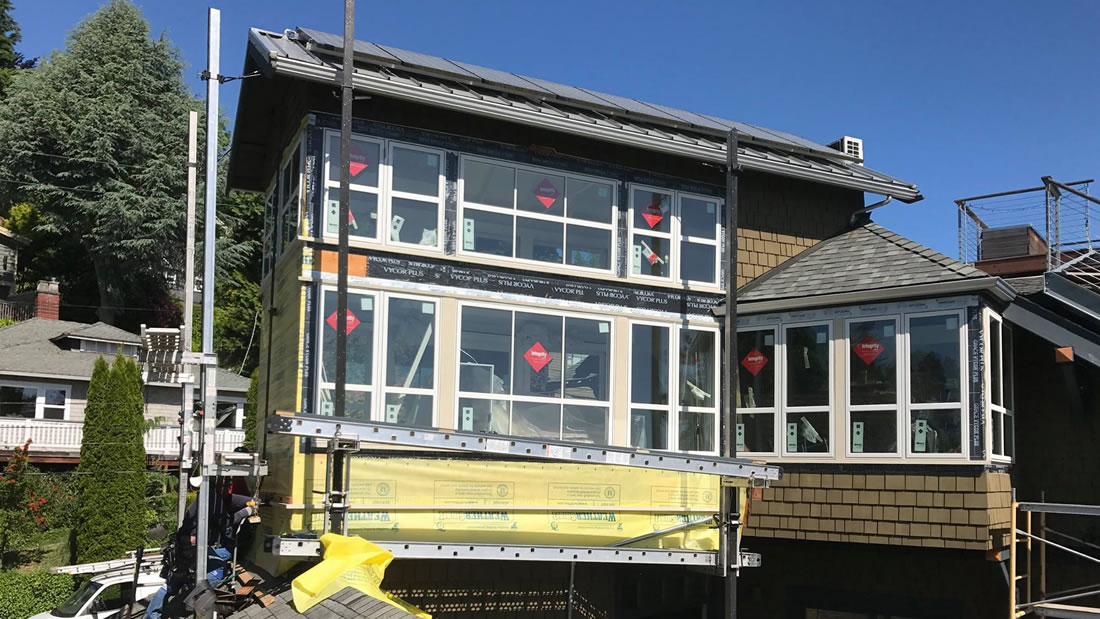 24 May

Free One Hour Assessment of Your Remodeling Project

The first step is knowing what you want. Sometimes it's simple: you need new windows or a door, or you need new siding.

But some remodel projects are harder to visualize. Here are a few tips to make your dream project a reality.
WRITE YOUR REMODELING GOAL
For instance, "I want to expand the bathroom to include a new tub/shower and I want to make it look brighter." Or "I want to reconfigure my garage into a playroom for our kids." Writing really helps clarify your vision.
GATHER IDEAS AND INSPIRATION
Once you write your goal, then start looking for ideas and inspiration. Fortunately, there are SO many websites to inspire us, like Houzz, or Pinterest. Paint colors, appliances, window styles, carpets – you can keep all your ideas on a free app like Trello
GET A FREE ONE-HOUR ASSESSMENT OF YOUR PROJECT
Snowridge will meet with you to help you determine how your vision can become reality.
Here's what to expect at our free one-hour assessment:
Before we meet in person, we'll ask you for as much information as you have, like drawings, plans, photos or website links. (If you don't have much yet, no worries!) We'll ask you when you want to do the project. Then we'll schedule our free one-hour assessment.**
After our first meeting, we'll follow up by sending you our initial assessment of your project. This will include a brief description of the work that needs to be done and a ballpark estimate of costs (low to high). These numbers are for your budgeting purposes, to see if your project falls within your budget. We base this "ballpark estimate" on our 25-plus years of experience in remodels.
WHAT'S NEXT?
If our ballpark estimate is within your budget and you'd like to proceed, we will work up a fixed-cost proposal. This means you'll know exactly how much your project will cost.
It takes time and research for us to build you a fixed-cost proposal. We offer a Professional Service Agreement (PSA) which lets us do just that.
WHY A PROFESSIONAL SERVICE AGREEMENT?
Even the most experienced remodeler needs detailed plans to do their best work for you. Our fixed-cost proposal includes all the major decisions involved in your project. This will save headaches in scheduling subs and ordering materials once your project starts. We also include details like specifications.
Here's what you can expect when you sign our PSA:
If needed, we will connect you with our trusted architects, engineers and interior designers, so they can help you create the best plans for your budget. (Of course, if you've already chosen someone, we will work with them.)
We'll research material selection, availability, and cost.
We will schedule our team of subs to look at your project and give us their estimate.
We will research and coordinate all necessary permits with your city.
We charge a per hour fee for our PSAs. In our experience, this is a win-win for you and our company. Here's why:
You will know exactly what you're paying for.
We can revise and improve our proposal if, for example, that whirlpool tub you wanted turns out to be unavailable. We call this revision process "value engineering," because we can modify materials or scope of work WITHOUT SACRIFICING THE INTEGRITY OF THE PROJECT. (PS: just so you know, we always use the best quality materials and the best labor practices—we never short-change our clients.)
The more detailed and exact our proposal, the less likelihood of the dreaded CHANGE ORDER once we start the job.
Contact us today for a free one-hour assessment.