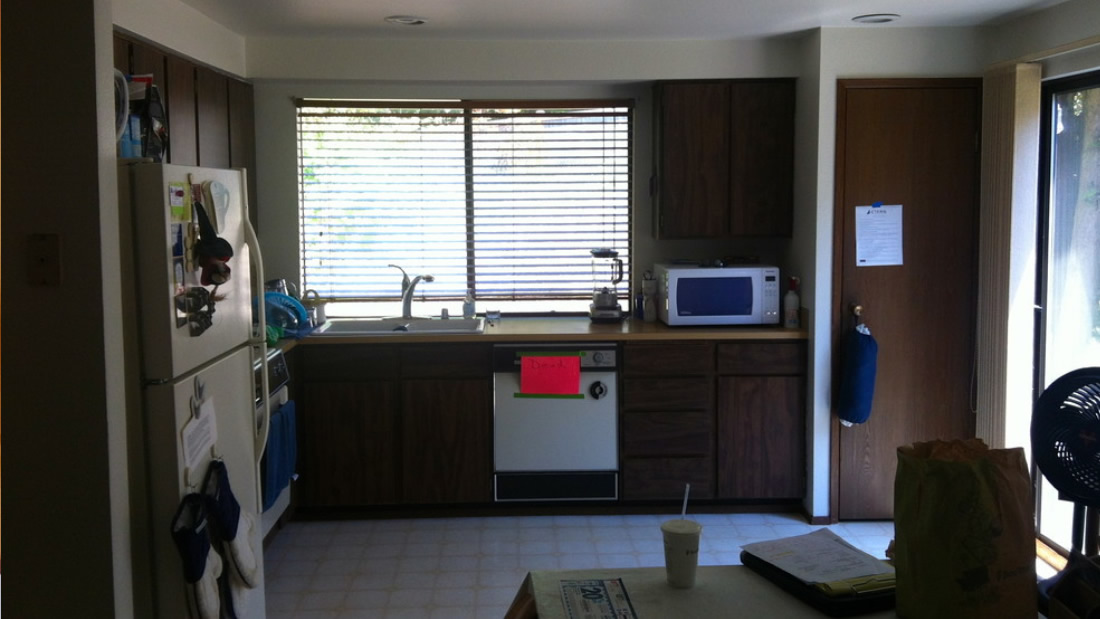 25 Sep

A Dark Kitchen Lightens Up

Our Kirkland client and her husband wanted to remodel a kitchen in their rental property. Having done previous remodels on other homes, she had a great eye for materials and colors, and working with her was a wonderful collaboration. This was one project where the homeowner was actively involved in researching and finding the best quality and price for cabinets, countertops and appliances. This once dark and outdated kitchen is now a warm, inviting space.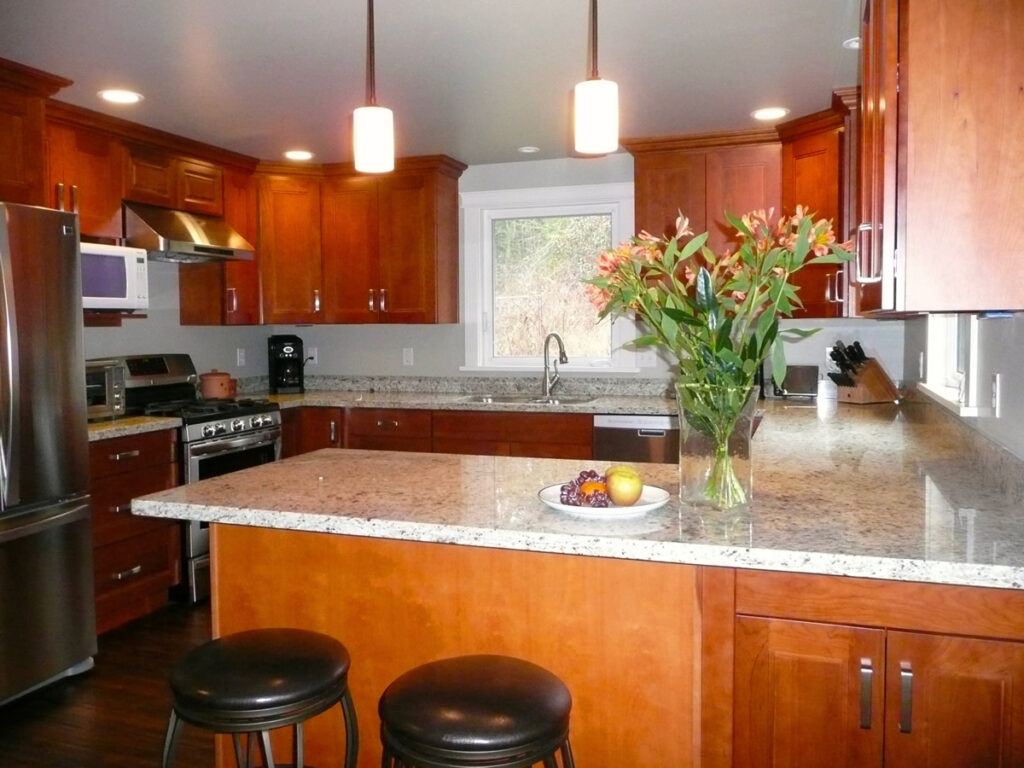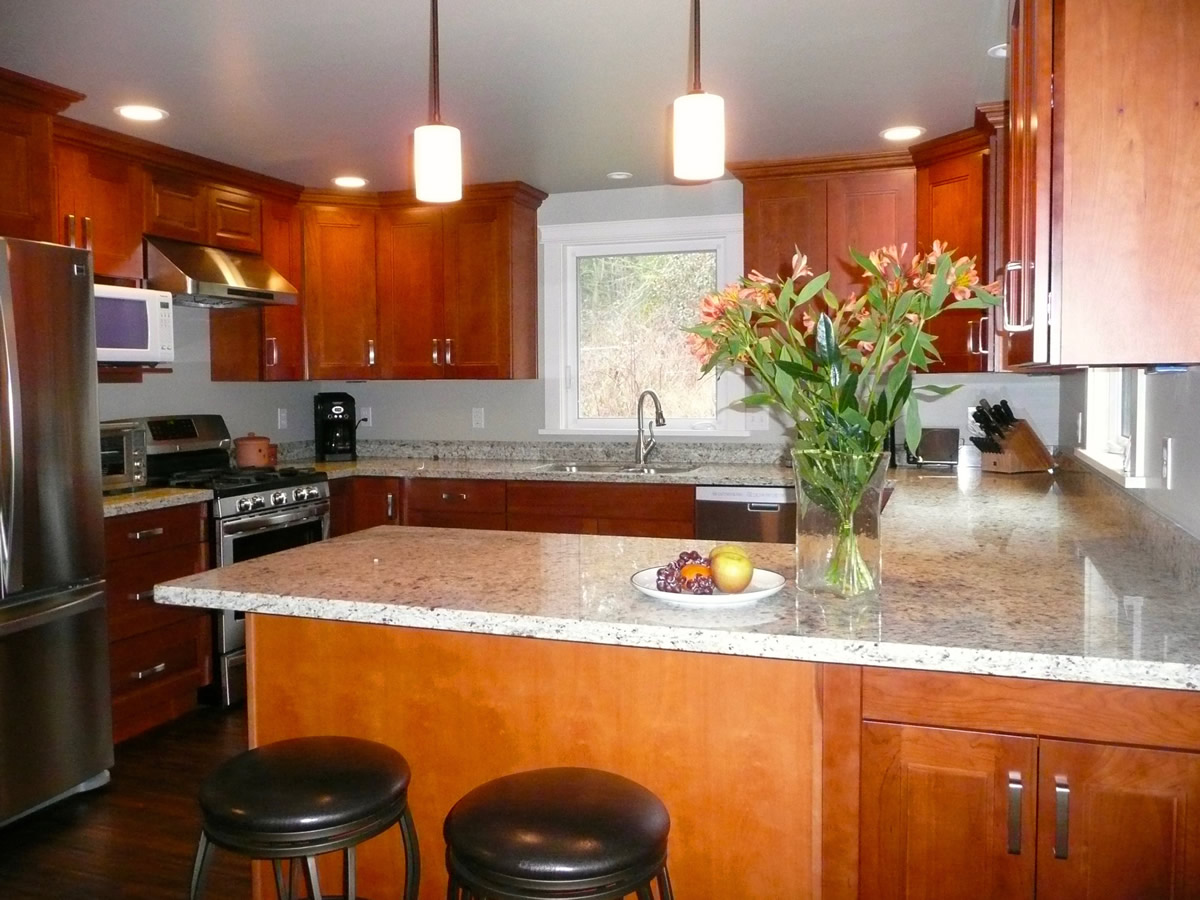 However, not every homeowner has the experience or time to be so actively involved in their remodeling project.
How to Get the Most Bang for Your Remodeling Bucks
Here are some questions we frequently encounter in the initial stages of a home remodel project:
1. Do I need an architect or interior designer?
Generally, hire an architect for projects that involve moving structural elements (like the support framing for walls). If the project involves enlarging a home (either up or out), an architect will provide you with the blueprints necessary to meet your city's building code requirements. Architects can also come up with space-saving or multi-use designs you may not have considered.
An interior designer will help with rearranging your existing space, and minor remodeling strategies, such as knocking out walls.
Whether you go with an architect or interior designer, ask about their fees upfront. Be clear about additional costs and timelines.
2. Can't I do most of the design myself and hire a contractor for the remodel?
There are so many great design resources now to inspire us – like Pinterest, Houzz or Inspireli, not to mention the traditional home designs found in magazines or tv shows. Translating your "wish list" into reality will likely call for flexibility on your part, and an open dialogue with your contractor. Then there's that little matter of budget. What looks great in a designer photo or a tv reality showmight be unavailable or out of your price range. Be ready to research your options before you start. Start a notebook and keep track of resources and prices. Paradoxically, the better you track your project, the more opportunties to be flexible and creative.
Make sure to check with your contractor that your remodel project meets local code requirements. You must get the proper building permits. Most cities are vigilant about finding home remodel projects and will "red-tag" you (halt construction) if you're not properly permitted.
3. What's the best contract to have with my contractor? Time & Materials or Fixed Estimate?
A Time & Materials Contract (or "T&M") are used by contractors when faced with a project that has unseen problems, like dry rot inside a wall. Something impossible to give a fixed bid on until the project actually starts. This kind of contract works best if your contractor provides you with detailed accounting of labor and material costs (with receipts), overhead and profit margin.
A fixed estimate is for projects where all the phases, labor, and materials are specified up front. There may be changes to the project once it starts ("change orders"), but a fixed contract gives you a better idea of what to expect.
Finally, here's a tip from Mike Holmes, of "Holmes on Holmes" – you don't need to make every decision right away. Deal with things one step at a time. "Any time you're in a hurry, it's going to go upside down."